Highlights & Inclusions
Post trip: Untamed Iceland
Ferry from Reykjavik to the Westman Islands
Transfer from the Westman Islands to Selfoss
Accommodations for 3 nights in the Westman Islands at the Hotel Vestmannaeyjar or similar
8 meals—4 breakfasts, 1 lunch, and 3 dinners
4 small group activities
All land transportation
Services of a local O.A.T. Trip Experience Leader
Gratuities for local guides, drivers, and luggage porters
All transfers
Itinerary
3 nights from: $1895, Single Supplement: FREE

Few places are as off the beaten path as the remote Westman Islands, an archipelago off of Iceland's southern coast blessed with a kaleidoscopic beauty of red cliffs, black sand, and green countryside, framed by blue sea and sky. Experience the scenic, historic, and cultural gifts of one of Iceland's major fishing ports and the premier home of the Atlantic puffin. This is a unique destination rarely seen by Americans.
DAY 1
Depart U.S.
Afternoon/Evening: Depart today on your overnight flight to Reykjavik, Iceland. Please refer to your individual air itinerary for exact departure and arrival times.
DAY 2
Arrive in Reykjavik • Ferry to Westman Islands
Destination: Vestmannaeyjar
Meals included: B D
Accommodations: Hotel Vestmannaeyjar or similar
Activity Note: Travelers are advised to meet the group at the 10-11 supermarket after customs at Keflavik International Airport by 7am for the included transfer to our first hotel—which departs at approximately 7:30am. Travelers unable to meet the group by this time are responsible for making their own arrangements to the first hotel.
Early Morning: Upon arrival at the airport, we'll depart for the Hotel Selfoss.
Breakfast: Around 9:30am at Hotel Selfoss.
Morning: We'll then depart around 10:15am by private motorcoach approximately 2.5 hours along a scenic coastal route to Landeyjahofn Harbour, where we'll board a ferry for the Westman Islands around 1:15pm. This small cluster of about 15 volcanic islands and 30 skerries off Iceland's southwestern coast is sparsely populated, yet full of natural and cultural delights. Today, we're headed toward the largest and only inhabited island.
Upon arrival on Heimaey Island around 1:45pm, we'll walk 10 minutes to our hotel, check in, and receive our room assignments. Depending on where we stay, the hotel may be located in the center of town and feature views of Heimaklettur to the north and Helgafell to the south. Typical room amenities include flat screen TVs, a private bath and wireless Internet.
Lunch: On your own, whenever you'd like. Check with your Trip Experience Leader for ideas. Perhaps you'll grab a sandwich at Vigtin bakery.
Afternoon: Around 3pm, join your Trip Experience Leader on an approximately 1-hour vicinity walk, during which you'll have the opportunity to get acquainted with your new destination, as well as ask any questions you may have about the area. From about 4pm on, enjoy free time to explore or perhaps rest after the day's activities.
Dinner: Around 6:30pm at the hotel, featuring regional cuisine.
Evening: On your own this evening. Perhaps you'd like to get to know your fellow travelers over a drink.
Freedom to Explore
Make the most of your explorations in the Westman Islands on these off-the-beaten path activities. These recommendations are designed by our team of local experts with women travelers in mind.
Toast to your adventure at The Brothers Brewery: Winner of the esteemed "Beer of the Year" award in the 2016 Holum competition, this brewery is known for "Togarinn," an Imperial Stout dedicated to one of the local sailors from Vestmannaeyjar. Using local ingredients such as seaweed and thyme—both found on the island—visitors can enjoy beer brewed with passion, knowledge, and history. Learn about the brewery during a tour, which concludes with a tasting. How to get there: A less than 5-minute walk. Hours: 2pm-12am, Thursday-Saturday. Cost: About $8 USD. Explore the volcanic island of Heimaey by Bike Rental: Covering just 5.2 square miles, Heimaey is easily accessible by bike, and because of its natural beauty, this mode of transport is ideal for witnessing nature up close. Spot wildlife along your route, admire natural rock formations, and enjoy a leisurely exploration of the largest island in the Vestmannaeyjar archipelago, and the largest and most populated island off the Icelandic coast. We recommend "Rent A Bike" bike rental. How to get there: A 15-minute walk. Hours: 6:30am-10pm, Monday-Friday; 8am-10pm Saturday-Sunday. Cost: About $8 USD. Give back to local wildlife at Sea Life Trust: Support this registered charity working globally to protect the world's oceans and marine life, especially beluga whales and puffins, who call this region home. The trust offers two visitor experiences: a visitor center and a boat trip around Klettsvik Bay, providing a chance to view belugas in their native habitat. The visitor center is home to two resident female whales, Little White and Little Grey, and also contains a Puffin Rescue Center and various interactive exhibits. The bay excursion departs right across the harbor from the visitor center and lasts approximately 30 minutes. How to get there: A less than 5-minute walk. Hours: Visitor center hours are 10am-5pm, April 1-October 31; 1pm-4pm, November 1-March 31. Bay trip times vary. Cost: About $30 USD for visitor center only, about $50 USD for a bay trip, and about $70 USD for both activities.
DAY 3
Explore Heimaey • Local entertainment Destination: Vestmannaeyjar
Meals included: B L D
Accommodations: Hotel Vestmannaeyjar or similar
Breakfast: Served at the hotel beginning at 7:30am, featuring international options.
Morning: Around 10am, our group will gather for a Welcome Briefing. During this briefing, we will review our itinerary in more detail (including any changes that may need to occur). Our Trip Experience Leader will also discuss logistics, safety and emergency procedures, and answer any questions we may have.
Then, around 11am, your Trip Experience Leader will lead an orientation walk around Heimaey, during which he or she will point out nearby places of interest like the local market and ATM. We'll also gain a better understanding of how a volcanic eruption in 1973 reshaped the town of Vestmannaeyjabaer on Heimaey, the largest of the Westman Islands. Most of Heimaey's 4,500 residents depend on the sea—and never was that more true than in 1973, when the island was devastated by the massive eruptions of lava that sprayed into the air through fissures in the ground. Amazingly, the entire fishing fleet was in harbor, and everyone on the island was rescued. Eruptions continued for five months, reshaping the island, adding about 15 percent to its territory, and creating Eldfell, a volcanic cone. Vestmannaeyjabaer has since been rebuilt, and today it is one of Iceland's major fishing ports.
After our orientation walk, we'll have a few minutes to explore on our own before departing for the 5-minute walk to lunch. Perhaps you'd like to continue admiring the unique lava flows throughout the area or walk around the outskirts of town to enjoy the nature.
Lunch: Around 1pm, featuring local cuisine.
Afternoon: After lunch, we'll depart at approximately 2pm for a private motorcoach tour of the island, which spans 5.2 square miles. Throughout the tour, a local guide will help us uncover the natural geological marvels of the area, as well as witness more isolated parts of the island. During the months of June-August, it is possible to spot puffins throughout our exploration. Our tour concludes around 3:30pm at Eldheimar, a museum which tells the story of the 1973 volcanic eruption. Referred to as "Pompeii of the North," archaeologists have been working to understand the tragic events of this natural occurrence, and the museum displays remains from their findings. During our visit, we'll watch a film about the historic eruption and then explore the museum on our own.
After our visit, we'll enjoy a bit of free time before later departing the hotel for a 10-minute walk to dinner.
Dinner: Around 6:30pm in a local home. During our dinner, we'll also enjoy entertainment provided by residents, including Icelandic folk songs and American classics. We'll also hear more about how the U.S. came to Iceland's aid in 1973 after the devastating volcanic eruption.
Evening: On your own. Consult with your Trip Experience Leader for recommendations.
DAY 4
Storhofdi hike • Boat tour • Explore Westman Island Destination: Vestmannaeyjar
Meals included: B D
Accommodations: Hotel Vestmannaeyjar or similar
Activity Note: The boat tour this afternoon is weather permitting.
Breakfast: Served at the hotel beginning at 7am, featuring international options.
Morning: Around 9am, we'll depart on a 10-minute private motorcoach ride to Storhofdi—meaning "great cape"—a peninsula off the southern tip of Heimaey (weather permitting). There, we'll view the Westman Islands' scenery during a 1-hour hike, led by our Trip Experience Leader. The peninsula is home to one of the oldest lighthouses in Iceland (operating since 1906), and offers visitors a glimpse into the unspoiled nature of the island. This area also provides a great opportunity for bird watching.
Then, at approximately 10:45am, we'll make the short drive back into town to visit Sagnheimar Folk Museum, a cultural exhibition displaying artifacts which chronicle various aspects of the island's past, including its deep connection to Mormonism and colorful sports history.
Lunch: On your own around 1pm. Feel free to consult with your Trip Experience Leader for ideas. Maybe you'll try Krain, a local eatery serving hamburgers, pitas, and sandwiches.
Afternoon: Weather permitting, we'll walk 5 minutes to the harbor, where we'll depart around 2:30pm for an approximately 2-hour boat tour around Heimaey Island. During the tour, we'll venture near sea caves and get an intimate look at the shoreline and local wildlife.
Our boat tour will end around 4pm, at which time we'll be able to explore on our own for approximately 3 hours. Perhaps you'd like to rent a bike and cycle your way around the island, or if you'd like to have a slower-paced afternoon, you could walk around town and mingle with locals.
Around 6:15pm, we'll depart our hotel and walk less than 5 minutes to our dinner spot for the evening.
Dinner: Around 6:30pm at Gott Restaurant, featuring local cuisine.
Evening: The evening is free for your own discoveries. Check with your Trip Experience Leader for suggestions.
DAY 5
Ferry to Landeyjahofn Harbour • Overland to Selfoss • Join main trip
Meals included: B
Breakfast: Served at the hotel beginning at 7am, featuring international options.
Morning: Around 9am, we'll depart for the 10-minute ride to the harbor, where we'll take a 45-minute ferry ride departing around 9:30am back to Landeyjahofn Harbour. Upon arrival, we'll transfer by bus approximately 1 hour to Selfoss. There, we'll meet the rest of our group as we begin our Untamed Iceland adventure.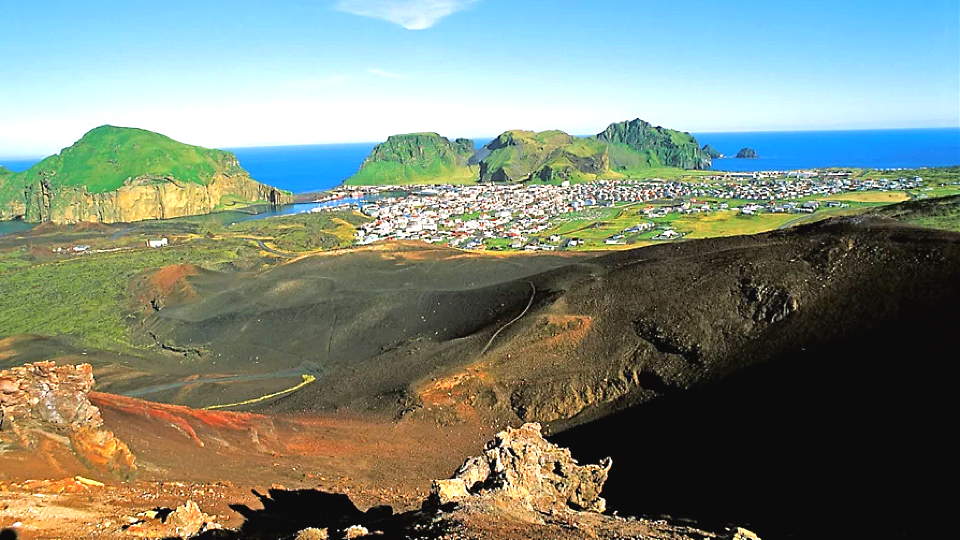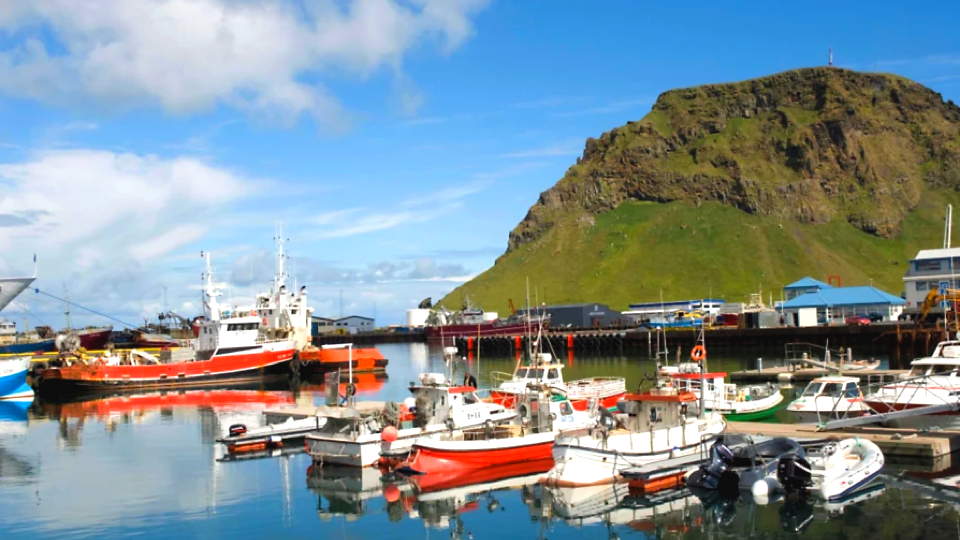 Europe